Are you Up to the Challenge? # 1: Say No to Cavities
Posted Mar 2021
By Delta Dental of Arkansas
Tagged developing good oral health habits, treats, kids, fun activities, tooth enamel, plaque, cavities, seeing a dentist, flossing, brushing teeth
Are you Up to the Challenge? # 1: Say No to Cavities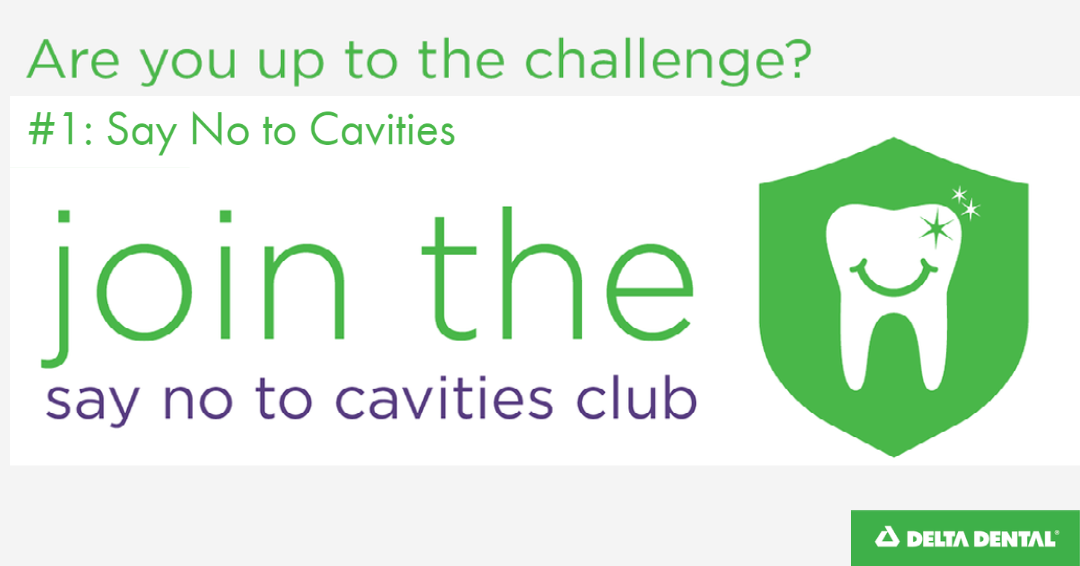 We've created a 5-part series of new ideas and fun activities for parents, caregivers and educators to teach children good oral health habits and decisions.
Play online or download and print hard copies of each challenge for free use in the home and in the classroom. Boost the excitement by rewarding each milestone with treats big and small.
#1: Say No to Cavities
The Goal
Help children develop daily flossing and brushing habits to prevent cavities.
The Benefit
Brushing twice daily for two minutes each time helps get rid of plaque and food debris, and flossing helps reach the crevices and spaces between teeth that a toothbrush can't. Removing plaque and food particles helps prevent tooth decay and cavities.
The Challenge
Encourage your children or students to brush their teeth twice each day, floss daily and track their progress on the chart below. Also instruct them to track visits the dentist. Here are
three good reasons why
.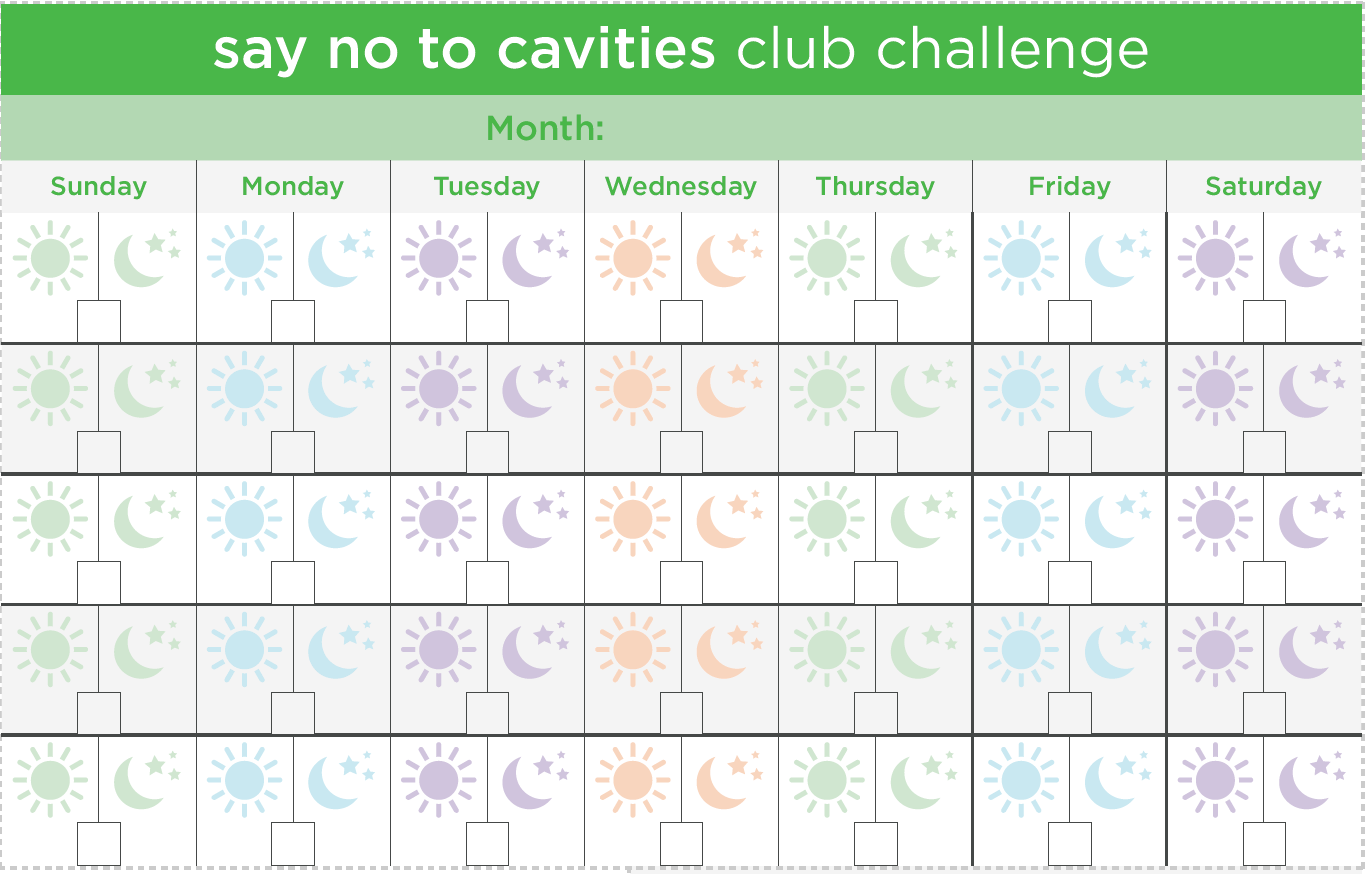 Parents can print or make 12 copies of the chart to hang in the bathroom. If you don't have a printer, save the image as a photo on your phone and use your photo mark-up tool to complete the chart.
Teachers may want to send the monthly charts home on a weekly basis to have parents sign off on them. Alternatively, children can keep the monthly calendar page in their desks. It may be helpful for kids to check the boxes when school first starts while the memory of brushing and flossing from the previous night and before school is still fresh!
The Rewards
Celebrate regular milestones (weekly, monthly, quarterly, etc.) with treats. Small rewards could be stickers, fun erasers or pencils. A large, one-year celebration could be a "Say No to Cavities" Champs party in the classroom or sleepover in the home. Include a new toothbrush with each award every three months.
Tips for Grown-ups:
If flossing wasn't part of your daily routine when you grew up and now you have a hard time getting into the habit, try the perfect floss.
A Say No to Cavities Challenge brochure, with complete instructions, templates of the monthly charts, illustrations of proper brushing and flossing techniques and definitions of tooth enamel, plaque and cavities/tooth decay and more, can be viewed and downloaded for teachers/parents and children.
Participate in our other challenges:
And then take our Smile Smarts Quiz!
Check out our video resources:
We'd love to hear from you how you are creating healthy smiles. Email us your success stories and suggestions for additional challenges at marketing@deltadentalar.com.


| | |
| --- | --- |
| Looking for Dental or Vision Insurance? | Looking for a Dentist? |
{{ showingText }} {{ showingTagName }}
---
---
There are not results to show