Dental Health in Older Adults | Top 3 Dental Health Risks
Posted May 2019
By Delta Dental of Arkansas
Tagged older adults, aging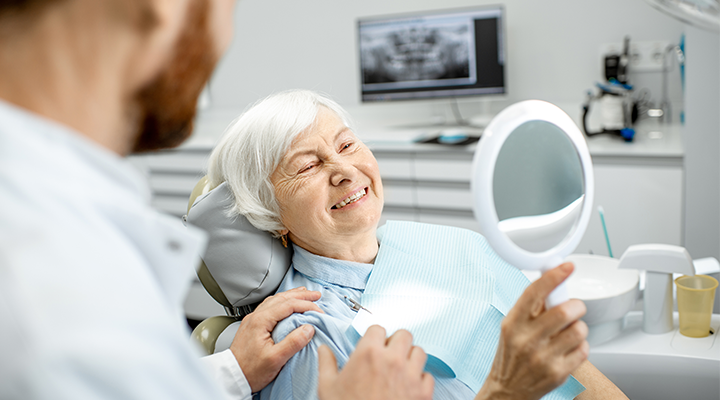 Older adults can expect to experience a few age-related changes in their lifetime including problems with the teeth and gums. They may not be as concerned about the color of their braces or how much money the tooth fairy gives out anymore, but avoiding poor dental health in older adulthood requires consistent smile care.
These are three common dental health challenges that older adults encounter. Use our tips for avoiding them:
Tooth Decay —
Today, people are capable of keeping the majority of their teeth for their entire life. Tooth loss isn't connected with aging. Poor oral health leads to tooth loss. And oral health concerns like tooth decay increase as gums recede away from teeth and root surfaces become exposed as a result of sustained poor dental care.
Dry mouth —
Did you know that saliva plays an important role in protecting your teeth and gums from plaque and other unhealthy bacteria? This means that people who experience dry mouth, which can be caused by medications, often see an increase in tooth decay.
To counter this, drink more water and limit your intake of caffeine and alcohol. Consider non-alcoholic mouthwashes, and even humidifiers can help make a difference. Check with your physician or dentist if you think your medications are causing your mouth to feel dry. They may be able to prescribe an alternative.
Gum Disease —
Older adults who have trouble gripping a standard toothbrush should ask their dentist for modified toothbrushes to better accommodate them. They may also want to consider a battery-powered toothbrush. Additionally, regular trips to the dentist are vital. Your dentist will be able to detect the presence of gum disease and create an oral health plan with you to treat it.
Quality dental health for older adults isn't something that takes a lot of time and work, however combating age-related changes does require dedication to healthy habits.
Follow these tried and true tips for a smile that will last:
•Drink fluoridated water and use fluoridated toothpaste
•Keep regular appointments with the dentist.
{{ showingText }} {{ showingTagName }}
---
---
There are not results to show