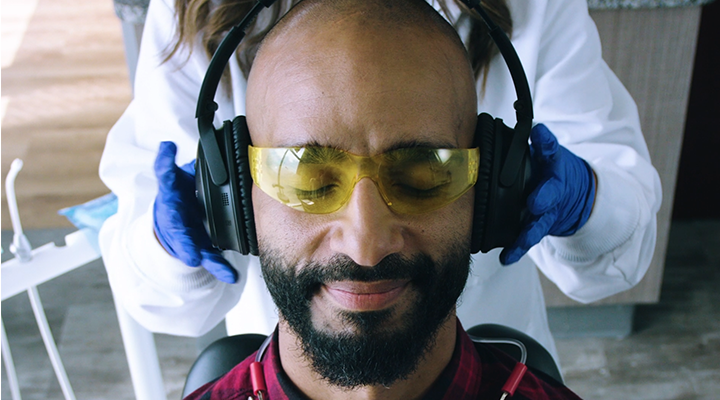 Fear about visiting the dentist is common. And for many, the sounds of the dentist office can be the trigger for that uneasiness. So, how can the dentist office help patients feel comfortable? With a fantastic playlist of course. The American Dental Association recommends patients to listen to music in the dentist office as a form of distraction. In fact, a combination of music and an anesthetic during dental procedures can reduce the patients' blood pressure and pulse rate more than an anesthetic alone. It has also been noted that patients who listen to music at the dentist office tend to have lower levels of stress-related hormones.
While patients can bring their own iPod or mp3 player filled with their favorite tunes, already having a great playlist playing in the dental office can be just as helpful. We normally focus on patients with our blog, but today we thought we would give a few tips to dental offices as well to help all patients feel more comfortable in the dental chair.

Tips for Picking a Playlist

Study Your Patients
Are they young teens, soccer moms or retirees? Do they wear cowboy boots or Uggs? Use this to help you judge music genre they might like.

Consider a Survey or Patient-Curated Playlists
Why not engage your patients by sending out an email survey asking what radio stations they listen to and what kind of music they like? Post a survey on your Facebook page for patients to vote on favorite songs and create a custom Pandora or Spotify station from the winner.

Other General Music Tips
Consider a music system where you can give each patient headphones while they are in the chair. The headphones will help cancel out noise of drills and other unpleasant sounds. Keep music loud, but not too loud to bother older patients or cause any kind of hearing damage. Consider staff when setting the volume as well. After all, a happy staff will do a lot to increase a patient's experience.
What are your favorite sounds to hear when you visit the dentist? We'd love to hear your feedback as a comment,
a post on our Facebook wall
or Tweet
@DeltaDentalAR.
{{ showingText }} {{ showingTagName }}
---
---
There are not results to show