Do You Agree? Delta Dental Patients Rate their Experiences with Dentists 9.5 out of 10
Posted Jul 2023
By Delta Dental of Arkansas
Tagged dentist satisfaction, dental experiences, CAHPS Dental Plan Survey
Do You Agree? Delta Dental Patients Rate their Experiences with Dentists 9.5 out of 10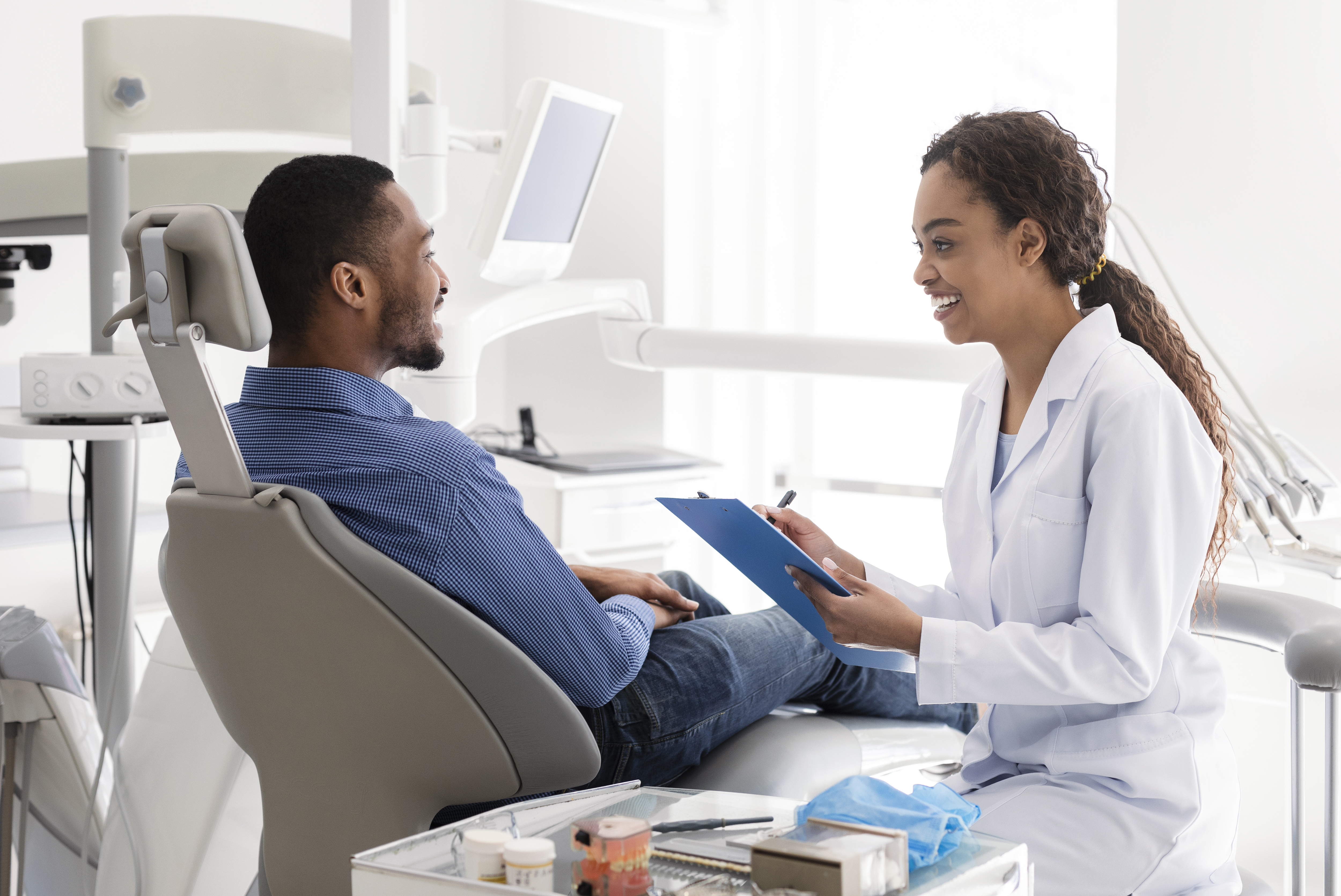 How did your dentist do? We'd like to know.
As your dental insurance company, we understand if we're not always on your mind.
You may think of us when you pay your monthly premiums and again when we process your dental claims twice a year. (You do go for preventive care visits twice a year, don't you? They are usually covered at no cost to you and can help save your life.)
We hope those moments—few as they may be—bring a smile to your face because we work hard to provide excellent experiences for our members.
CAHPS Survey Measures Customer Satisfaction with Their Dentists
A vital component to evaluate oral care provided by our network dentists is the Consumer Assessment of Healthcare Providers and Systems (CAHPS®) Dental Plan Survey. Delta Dental conducts this annual survey to collect feedback from its members about their oral healthcare experiences.
And we would love to collect YOUR input—will you consider participating?
We want to know if you were satisfied with your dentist during your most recent visit and your dental plan overall.
Were you treated with courtesy, respect and professionalism by the dental staff?
Did you feel at ease while receiving your dental treatment?
How easy was it to access dental care?
How would you evaluate your dental plan information and services?
Delta Dental is the first and only dental carrier to use the CAHPS Dental Plan Survey with commercial groups on a national scale. This collaboration allows us to recognize strengths and pinpoint specific areas for improvement.
Why is Satisfaction with Dentist Visits and Dental Plans Important?
Studies have shown that positive patient experiences are associated with better health outcomes.
Put differently, if you feel respected and understood by your dentist, you are more likely to follow home care recommendations and return for regular preventive care.
Multiply those regular check-ups over a lifetime, add daily brushing and flossing and a healthy diet, and you're likely to maintain a healthy smile for as long as you're around.
Delta Dental and your dentist want to make that happen.
Recent Survey Shows Widespread Satisfaction with Delta Dental Dentists
The most recent CAHPS Dental Plan Survey collected feedback from more than 20,000 adult Delta Dental adult patients. Released in June 2023, it showed the following key findings:
Patients rate their experiences with Delta Dental dentists an average 9.5 out of 10
Patients gave an average 9.4 out of 10 for overall dental care rating
96% of patients said their dentist and dental staff treated them with courtesy and respect
88% of patients reported feeling comfortable during dental treatment.
Aggregate survey results are shared with Delta Dental network providers through customized patient feedback reports. These insights help dental providers consistently deliver high levels of care.
Your Opinion Matters: How To Participate in the Next CAHPS Survey
We would like to know what you think. Please consider participating. Your responses will be aggregated to preserve anonymity.
It's simple to sign up.
Go to DeltaDentalAR.com and click Login/Register on the blue ribbon in the upper right corner.


Set up your online account or sign in. Proceed to dental coverage.
Click the dropdown arrow next to your name in the upper right and select Account Overview.
Then complete the Survey Communication Preferences by inputting your email address, phone and text numbers and selecting "Opt In." Make sure you save your selections.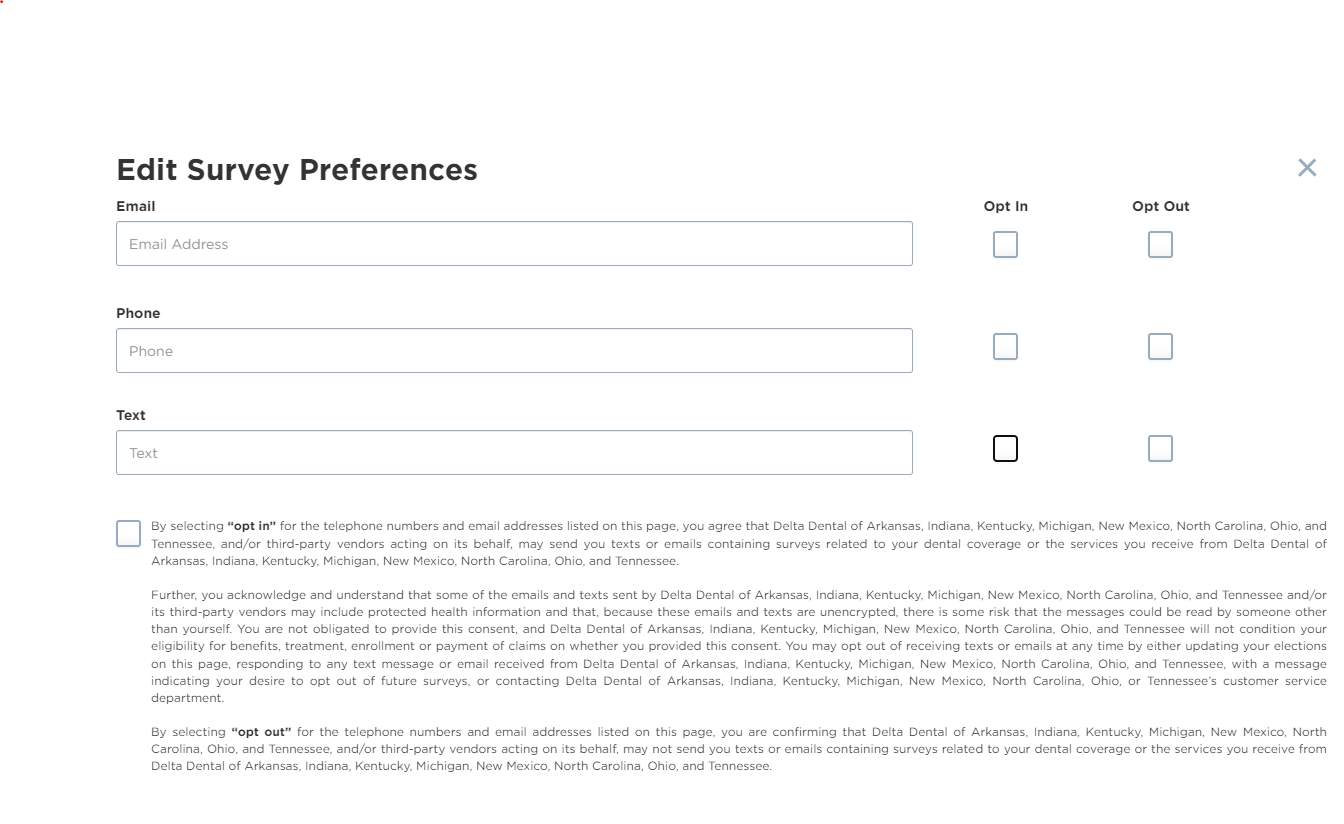 That's it.
You will likely receive a survey link a month after your next dentist visit. Thank you.
Not Just Dental Insurance—But Your Go-to Company for Dental Resources
Delta Dental is the champion of smiles. We offer a variety of affordable, competitively priced dental plans for individuals, families and groups with access to the state's largest network of providers.
And that's not all.
If you are an Arkansas nonprofit organization, government agency or educational institute, check out our Delta Dental of Arkansas Foundation for grants and resources to support your eligible oral health project.
Sign up for our monthly Chatter for free tips and news about healthy smiles, vision and hearing.
Download our free Grin! for Kids Magazine or request print copies.
Request in-kind donations of toothbrushes for kids or adults or the Delta Dental grill.
Browse our blog for free parental and teacher resources, such as lesson plans, reading lists, science experiments, coloring books and more.
Follow us on social media at deltadentalar on Facebook, Instagram, LinkedIn, TikTok and Twitter.
CAHPS Survey History
Developed by the U.S. Agency for Healthcare Research and Quality, the CAHPS survey tool has been widely used by numerous healthcare organizations in addition to the U.S. Department of Health & Human Services, the National Committee for Quality Assurance, and the U.S. Department of Veterans Affairs. In 2006, the CAHPS Dental Plan Survey was developed to assist the U.S. military with assessing its TRICARE dental services program. The Yale School of Public Health and RAND Corporation collaborated to ensure the validity of the CAHPS Dental Plan Survey — refining questions and improving administration methods to provide a consistent measure of the patient experience.
"CAHPS" is a registered trademark of the Agency for Healthcare Research and Quality.