Delta Dental Launches Oral Health Diversity Fund—Apply Now
Posted May 2023
By Delta Dental of Arkansas
Tagged Delta Dental, Oral Health Diversity Fund, funding, diversity, oral health workforce
Delta Dental Launches Oral Health Diversity Fund—Apply Now
Here is a not-so-sparkling truth about oral healthcare providers in the United States:
They are overwhelmingly white, pun intended.
The current oral health workforce does not reflect the changing demographics of the U.S. population. Most dentists are white, followed by Asians, leaving Blacks and Hispanics severely underrepresented.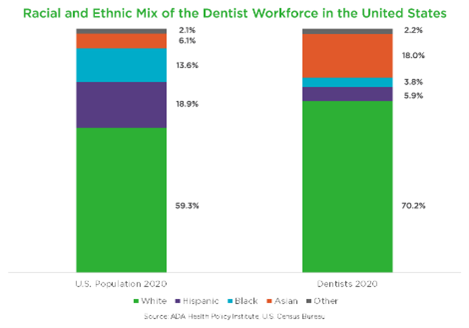 That imbalance affects the oral health of many Americans. The rates of tooth decay, periodontal disease and oral cancer are far higher—and dental care utilization rates considerably lower—for historically underrepresented grounds in the United States.
But thanks to the Delta Dental community, changes are underway. And YOUR community is invited to benefit from these new initiatives.
New Campaign Seeks to Increase Diversity Among Oral Health Care Professionals
In mid-2023, the Delta Dental Institute launched a new campaign, Greater Diversity in the Oral Health Workforce, to help increase the number of oral health professionals from historically underrepresented communities.
Racial and ethnic diversity among health professionals has been shown to lead to improved health outcomes and greater health equity.
The Delta Dental Institute is the national advocacy group for the Delta Dental Plans Association, which comprises 39 Delta Dental member companies, including Delta Dental of Arkansas.
The campaign has 4 major goals:
Establish the Delta Dental Oral Health Diversity Fund

In its first year, this industry-leading fund will support targeted investments of up to $1 million in comprehensive solutions, innovative pilots and scalable models that inspire school-age children from historically underrepresented groups to pursue a career in oral health.

The Delta Dental Oral Health Diversity Fund is now accepting applications through Monday, June 12, 2023, 5 p.m. ET.

Support Oral Health Higher Education

Delta Dental will continue its investment in the future of the oral health workforce through the funding of scholarships and infrastructure at minority-serving institutions. Since 2018, Delta Dental has invested nearly $50 million in college and university programs. In addition, in 2021, Delta Dental supported scholarships, grants, and other workforce development opportunities that benefited more than 147,000 people, many from historically underrepresented groups.

Propel New Research

The Delta Dental Institute has sponsored the Harvard School of Dental Medicine's new research on the oral health workforce. Its key finding showed that expanding the dental workforce in oral health professional shortage areas through the National Health Service Corps would reduce the burden of dental caries among children in underserved areas and is cost-effective.

Engage with Our Communities

Nearly a quarter of Delta Dental community investments in 2021 were dedicated to oral health education and workforce development. Delta Dental will continue its focus on supporting historically underrepresented groups by conducting outreach to students of all ages to elevate the importance of oral health to overall health and to introduce the possibility of a career in the oral health professions.

As the nation's oral health leader, Delta Dental accepts the responsibility to contribute to more equitable health outcomes and is committed to continually addressing the needs of the diverse communities we serve. The Driving Greater Diversity in the Oral Health Workforce campaign represents a significant step in that direction.
Additional Support from the Delta Dental of Arkansas Foundation
We at Delta Dental of Arkansas enthusiastically endorse and promote this new campaign.
But with Focus on Community as one of our core values, philanthropic efforts to improve the oral health of Arkansans are not new for us.
For years, our Delta Dental of Arkansas Foundation has provided grants and resources to Arkansas nonprofit, educational and government organizations for eligible oral health education and dental disease treatment or prevention programs to benefit underserved, uninsured or underinsured, low-income Arkansans.
Find more information and apply for funding here.