Why Your Teeth Love a Teal Halloween
Posted Oct 2021
By Delta Dental of Arkansas
Tagged tooth enamel, acids, bacteria, plaque, inclusion, non-edible, sugar, cavities, food allergies, teal pumpkin project, teal pumpkin, trick-or-treat, halloween
Why Your Teeth Love a Teal Halloween
October 2021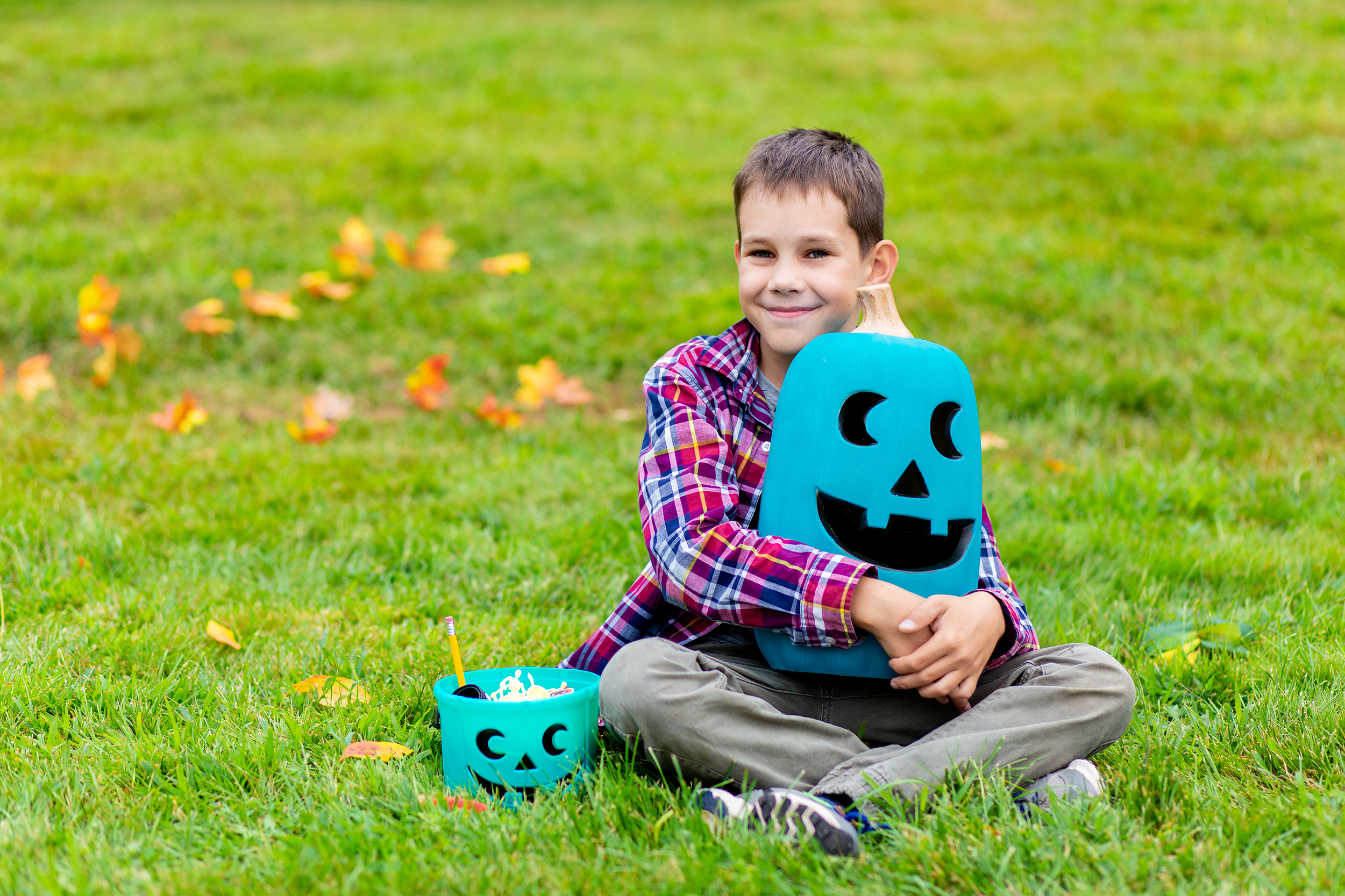 The spooky season with all the cavity-causing candy is scary for your teeth. Here is how to say yes to Halloween ghosts and ghouls, but no to sugar: Go teal.
What's a Teal Halloween?
Teal, a bluish-green hue, has long been used as the color for food allergy awareness and food-related medical conditions. A few years ago, it prompted the Teal Pumpkin Project to promote the inclusion of all trick-or-treaters.
For Halloween, participants place a teal pumpkin or bucket on their doorstep to signal their home is food-allergy friendly. It's typically filled with non-edible treats, rather than chocolates, caramels and lollipops that could trigger food allergies.
What a brilliant and fun idea!
You may already celebrate a Teal Halloween at your house to protect your little ones from any of the eight most common food allergens:
milk
eggs
fish and shellfish
wheat
soy
peanuts and tree nuts
Even if you're not, consider going teal to curb cavities. By avoiding candy, you cut down on sugar that leads to tooth decay.
Recap: Why Does Sugar Contribute to Tooth Decay?
A soft, sticky film of bacteria called plaque is constantly forming on your teeth. Every time you eat or drink something, the bacteria produce acids that eat through your tooth enamel—the hard protective surface of your teeth.
All foods have this acid effect, but some foods more so than others. Sugar is among the worst offenders. It's as if the bacteria rev up their attack on the tooth enamel when they encounter sugary foods. That's why you want to enjoy sweet snacks just as occasional treats. And brush and floss daily to remove plaque.
Going teal for Halloween greatly limits your and your children's candy consumption and thus protects your teeth.
Treats to Include in a Teal Pumpkin
Teal buckets and pumpkins are available for purchase at major retailers and online. Fill them with non-edible treats such as
Glow-in-the-dark plastic wands or bracelets
Halloween-themed plastic necklaces, rings or bracelets
Miniature toys and figurines
Active toys like bouncy balls or yo-yos
Gag toys like plastic vampires or spooky-themed costume accessories
Crayons or markers along with coloring sheets like our own (download, print on cardstock paper and cut along lines)
Stickers
Art and craft kits
Noisemakers
Finger puppets
Look for these and other inexpensive items at dollar stores and party supply retailers.
Unlike Halloween, Dental Coverage Lasts All Year Long
If all this talk about teeth and Halloween candy makes you think of your next dentist visit and the need for dental insurance, look no further. Delta Dental of Arkansas offers access to one of the state's largest networks of dental providers with different plans for individuals, families and groups and a variety of benefits.