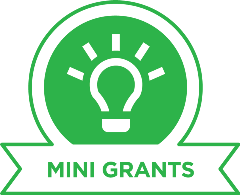 Mini Grants
Mini grants seek to support innovative, solution-based projects that make an impact in the field of oral health. Our intent is to directly impact communities through providing access to funding for organizations that may not meet the requirements of our Community Grants program.

Funding amount: Up to $2,500
Grant application deadline: Applications accepted year-round
Grant recipients notified: Ongoing
All applicants must meet certain criteria in order to qualify for grants and keep that qualification active.
How to Apply
Our application process is 100% online! Applicants are required to register with Foundant, an online grants management system, to complete the application process. Click here to create a free account.

In order to register, you will need the following information:

• A username in the form of an email address
• Primary grant contact information
• Your organization's information, including EIN/Tax ID number (required)
• Contact information for the organization's Executive Officer
Who We Fund
The Foundation encourages Arkansas-based nonprofit or community organizations holding a current tax-exempt status under Section 501(c)(3) of the Internal Revenue Code, governmental agencies and educational facilities to apply. We cannot award grants to individuals. Only one proposal per organization per year will be considered.

Grants typically not funded include requests for:
Indirect costs, excess administrative and salary costs, utilities, wages/salary, fringe benefits, travel, or incentives/gifts
Fundraising events
Private foundations and endowments
Deficit financing and debt retirement
Projects that will not be implemented within one year
Programs that discriminate on the basis of race, national origin, gender, religion, age, disability, political beliefs, sexual orientation, or marital or family status
Certain grants include specific reporting requirements, schedules and systems that may vary based on the funding level. Please review the grant terms and conditions carefully before applying.

For more information about our grant programs, please contact us at foundation@deltadentalar.com.
Foundant FAQ

Which browser would be most compatible with the Online Grants System?

For the best user experience when applying for a grant, we recommend using Google Chrome 14 or higher, Firefox 9 or higher, or Safari 4 or higher. It is fine to use Internet Explorer, but you may encounter some minor technical issues.

How do I upload files to my application?

For application questions that request an uploaded attachment, click the Upload a File button and then choose the desired document from your computer. The file name of the uploaded file will be indicated under the Browse button. Then save your application (button at the bottom of page).

Pay attention to your file names – remove extra periods or replace them with a dash or underscore character. If you need to add more than one please contact us for more help.

What file formats are accepted for file uploads?

Only .xlx, .doc, .docx, and .pdf file formats will be accepted for file uploads.

What is the maximum size file upload?

The file size limit is noted next to the Upload a file button and the system will not accept files greater than this limit.

How do I delete a file that I have uploaded to the application?

There are two ways to remove an uploaded file from an application:

Once the file has been uploaded, a delete button will appear below the file name. Clicking Delete will remove the file.
To replace the file, a new file can be uploaded in its place. Click on the Upload a File button to upload the correct file and replace the original one.

Can I upload more than one file upload per category?

Applicants can only upload a single document in response to an upload question. If an applicant has more than one file they need to upload, they need to combine the files either electronically or via scanning. There are two methods applicants can use:

If the files to be uploaded are in a format that is editable (such as Word or Excel), the applicant may take multiple Word documents or Excel sheets and combine them into one file.
Utilize the file upload options located under the "Supporting Documents" section of the application. This section will allow you to upload up to four additional supporting documents.

Why am I having trouble uploading my file?

There a few different reasons one may experience file upload issues:

File names – Remove extra periods or replace them with a dash or underscore characters.

File size – Files that exceed the maximum file size limit will cause an error. Compress the files to create a smaller file.

Do you have sample budget documents that I can review?

When will I hear about my grant application?

Grant notifications will be sent by email to the address used in the original application. Please reference grant cycle timeline here for important dates.

How do I submit my grant report?

Grant reports will be uploaded via Foundant. Additional information will be provided on the content of Grant report upon notification of approval of funding.